Taken around 1931 in Brown's Photographic Studio, Falkirk.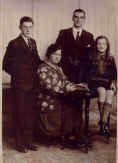 Left to right, Alexander Miller (dad) Margaret Gardner Miller, Alexander Miller (grandpa) and Janet Stevenson Miller.
Below, two shots of Margaret Gardner (1883 - 1966). Aunty Net thinks that in the photo with the bicycle she must have been around 17 years old, which would make it around 1900. Apparently it was very daring then for women to ride bikes then ( and tricky, given the skirts!) She would also have made the intricate blouses herself. A Net still has the locket in the first picture.
back to family page